Arrangements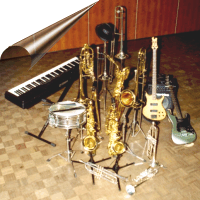 "Arranging is an opportunity to communicate feelings and attitudes. The final goal is to make a coherent and well-conceived musical statement that reaches out to the listener."
Sammy Nestico
Whether you need a complete arrangement for a new song, an arrangement of a well-known classic for your band, or additional parts such as strings or horns for your next cd: Creatid Music Services can present your creation in the best possible setting. Years of experience provide you with unique arrangements, adapted to your special needs. But even so: be prepared for a few pleasant musical surprises! An unexpected mix of styles, some inventive countermelodies, different harmonies, etcetera. Experience, impressions and inspiration come together to bring out the best in your music, arranged and orchestrated to let it really shine!
Additional parts for cd's
You know the drill: you're preparing your songs for the new cd and someone suggest to add some strings or horns to some of the songs. That's a great idea, but who's going to write these parts? Or you have this track that really shows potential but somehow something seems to be missing and you need a pro to look at it. By commissioning Creatid Music Services you get imaginative arrangements that bring something special to the songs. And you save lots of time (not to mention money!) for the parts don't need to be corrected, because some friendly keyboardplayer wrote notes that can't possibly be played by the instruments or who forgot that horn players need to breathe every now and then! Arranging is as much craft as it is art and in the long run you'll save money by hiring a pro to do it right the first time!
Arrangements of new works
You could also go all the way and let Creatid Music Services handle the arranging of your complete pieces of music as well. Regardless of style, you supply the melody and chords (and lyrics, if any), and you'll receive a complete arrangement, ready for performance and recording. Of course the level of the intended players is always taken into consideration too, so you won't end up with a beautiful arrangement that no one can play! From beginners to seasoned professionals, all levels of proficiency are possible, it's your call! All of the arranging is done in close cooperation with you, so you'll know where you are at every step along the way.
Arrangements of other songs
If you want to play a well-known song, but not in the tired old renditions, you've come to the right place as well. By letting Creatid Music Services arrange it for you, you'll get a brand-new version of your favored classic. Like an old friend with a new face! Of course the arrangement will be adapted to your band, including the level of the musicians. And you'll have a unique version: recognisable but still refreshingly different, an arrangement that no other band plays like you do! Just like Joe Cocker or Frank Sinatra did with the Beatles songs, you can breathe new life in those classics too, in your own way.
Want to know more?
If you want more information on the arranging services, just use the contact form to ask your specific questions.
Subscribe to feed