conducting
Posted September 23rd, 2010 by RayDrossaert
in
Here is a video that I discovered last Monday of one of our recent concerts. I do not know who shot the video (assuming that DANMUPPET is not a real name), but the quality is rather good. The sound quality is reasonable given the fact that it was an open air concert and we only used minimal amplification. The reason why I walk of the stage in the first part is that I wanted to check the sound balance. Unfortunately the "engineers" had left the mixing console and where nowhere to be found! By the way, this is not our strongest number on the list (by a long shot!), so if you want to hear what the band can really sound like, you will have to come and see us live! The next opportunity is Saturday 25 september 14:00 - 16:00 at the Munsterplein in Roermond. Maybe I will see you there!
Subscribe to feed
Posted May 6th, 2009 by RayDrossaert
in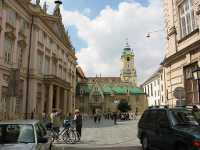 I just returned from a concert trip to Bratislava with the Pointwood Big Band. I became the conductor of this band in January. I have only done two concerts with this band in the past months, so this was an excellent opportunity to develop the sound and get to know the bandmembers better. And of course a great way to explore some new surroundings. Read on if you like to know a bit more about our trip:
Subscribe to feed
Posted January 17th, 2004 by CreatidMusicServices
Saturday we performed the "ZDF - Hitparade" with great succes in De Schakel in Reuver. An arrangement of eight German songs in medley-form, with the theme of the "ZDF - Hitparade" as connecting element. Fantastic performances by the singers and the 10-piece band (conducted by Ray Drossaert) and great make-up made this an experience to remember! There will be another performance on Saturday, January 24.
Subscribe to feed